Feducis Sapphire Ring
- $370
Description
Smooth blue sapphires punctuate the rawness of this ring. The surface glitters with undulations and texture. It is imploring to be touched and worn by a graceful hand. A mixture of rhodium encases the finger as the gemstones sparkle with blue cobalt artistry.
Details:
Silver 925
Stone: Blue Sapphire
Plating: Gold, Black, White Rhodium
Customer Reviews
Write a Review
Ask a Question
10/09/2020
Liz S.
United States
Stunning and unique ring that makes me feel like a rock star!
I absolutely love the feducis sapphire ring! I am 47 years old and have been OBSESSED with jewelry all my life. Since I was about 5 years old, I have spent my money on JEWELRY! I can literally open up my own jewelry store with my personal collection. In the past several years, I became slightly uninspired by jewelry though. It was the same old thing with no true unique designs. Jewelry is a part of my style. It sets my look even more so than the clothes or shoes I wear. I use it to make me look unique and feel special. Jewelry is also my art. It's how I express myself. So even though I have TONS of jewelry to chose from in my collection, I was searching for THAT piece that would be a conversation starter. WELL....then I found German Kabirski! I was obsessed with the website and poured over it OFTEN. Unfortunately, my desire to purchase a piece was postponed by a house my husband and I were trying to sell for close to a year. We had purchased a large piece of property we moved into in order to open a Chihuahua focused rescue. So, we were paying two mortgages. My gift to myself when our house sold was a German Kabirski piece! Sooooo when our house sold I had to make a decision on which piece to purchase. Tough, tough, tough but I decided on the feducis sapphire ring. I love it and am so happy. It's elegant, edgy, and unique. But now I want MORE! ' Until my next piece, I will wear my feducis sapphire ring while I take care of my Chi Rescue Babies!!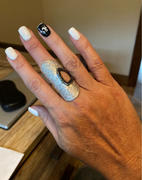 08/14/2020
Allison .
United States
07/23/2020
Terri P.
United States
Edgy!
Classy sapphires in a new edgy style! Love the ring! I wouldn't hesitate to buy another piece of jewelry from this designer.
05/26/2020
Lori M.
United States
Beautiful Ring
This is a beautiful ring and would definitely consider ordering another piece from this company for myself (or as a gift). Originally, I did have some difficulty contacting them for an exchange of size but once contact was made the reorder/credit moved quickly. Customer Service was very attentive and helpful!