Prisca Citrine Ring
- $160
Free Expedited Shipping in USA
Description
Emerging from the organic depths of a flower-like fold of petals a fantastically bright drop-ball citrine shows its fiery heart. Its yellow spirit gleams with the intensity of the sun and is further enhanced by the shimmering gold and pretty white rhodium of the ring and its band. Echoes of natures beauty at its best.
Details:
Silver 925
Stones: Drop-Ball Citrine
Plating: Gold 18K, White Rhodium
Width: 23 mm
Band wide: 1,5 mm
Length: 43 mm
Weight: 8.47 g
Customer Reviews
Write a Review
Ask a Question
10/27/2020
Katherine S.

United States
Customer service
This company's customer service is incredibly quick to respond and the shipping is very fast! My problem was solved very quickly and tactfully. If you are the fence go for it. The Kafka vibe of the jewelry gives it substance and style.
10/23/2020
Olga R.

Australia
Finally found what I've been looking for
Took me quite some time to find the perfect piece but I'm so glad I finally did! The photos don't do justice to this beautiful piece of jewellery, it looks much better in person!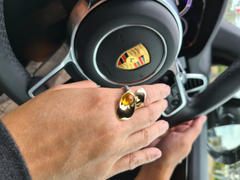 10/13/2020
Joanna R.

United States
Prisca citrine ring glows
Citrine is a stone that has always reminded me of the sun, like a drop of honey or a pearl of nectar. This ring is comfortable to wear on any finger and the stone setting absolutely glows. The exterior silver is matte and feels raw yet smooth, lively and natural. The design then gives way to the two-pronged, open design burst of smooth gold. The flute holding the citrine inspires optimism and assurance, the faceted citrine captures the light and the polished gold setting mirrors it outwards. Eye catching, unique, clean lines yet friendly and feminine... I'm in love with my sunshine honeydrop ring.